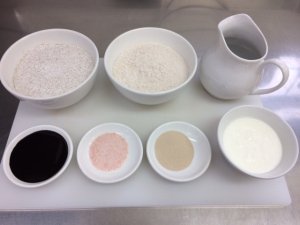 Ingredients
Makes 1 Loaf
250g Organic Spelt Flour
250g Rye Flour
2 tsp Dried Yeast
350ml Warm Water
100ml Yoghurt
2 Tbsp Black Treacle
2 tsp Salt
Method
Mix together the Spelt Flour, Rye Flour and the Dried Yeast in a bowl.

Place the Water, Yoghurt, Black Treacle and Salt and stir until thoroughly mixed.

Pour the wet mixture into the flour mixture, bring together to form a dough. If the dough looks a little wet leave the dough to rest for 5 minutes for the flour to soak up some of the liquid.

Drizzle a little oil on the work surface and knead until a smooth, slightly sticky dough is formed. If the dough is still wet use flour whilst kneading to bring it together.

Drizzle a little oil in a bowl and place the dough in the bowl. Place the bowl in a warm place to prove for 2 hours.

Once doubled in size, knock the air out of the dough. Shape as you wish, cover and prove for another hour. Preheat oven to 200c and place a tray of water in the bottom of the oven to create a little steam.

Once the dough has again doubled, bake for 45 minutes until the bread has begun to leave the sides of the tin or the bread has a rich, brown crust.

Allow to cool in the tin for 5-10 minutes before turning out, place on a cooling rack and allow to cool completely before cutting.